Discover more from Last Roll of the Week
Substack for the RPG writer and podcaster Red Dice Diaries, where I muse on RPG topics and trivia that have caught my eye during the week.
RPGaDay 2023 # 31
FAVOURITE RPG OF ALL TIME
This is my 31st and final official post for RPGaDay 2023 (although I may do one more post about how I think it has gone), if you're not sure what that is you can find Autocratik's blog post about it by clicking here.
Basically a list of prompts is provided to generate discussion around RPG topics, with creators making a blog post, video or podcast each day during the month of August, the list of prompts is included below:
FAVOURITE RPG of all time
So that's it for this years RPGaDay2023, there have been highs and lows, questions that I've been able to answer easily and others that I've had to spend longer thinking about or I've had to find alternate ways of looking at them; as will all such projects the dreadful spectre of diminishing energy has also been looming, I find this with a lot of longer running or daily projects, you start of all fired up with enthusiasm and that sort of ebbs away as the project progresses and inevitably life and other things sap your mental resources. A couple of other people have mentioned this and it's definitely something I've experienced in the past, a great thing about RPGaDay2023 has been reading other people's posts and responsing to them, feeding off this energy and using it to keep myself going when momentum has flagged.
Also—knowing that I'm going to be very busy on two of the August weekends without time to write posts—I decided to try and write as many as I could in advance (in-fact it's August the 19th as I sit here writing this) so that—if I have a day when I don't have the energy or time to write a post—I'm still covered.
So—enough of my stalling—I best get on to dealing with the final prompt, and the reason I've been stalling a bit is because I find picking a favourite RPG incredibly difficult, both because I have so many games, but also because I like different gamesd for different reasons.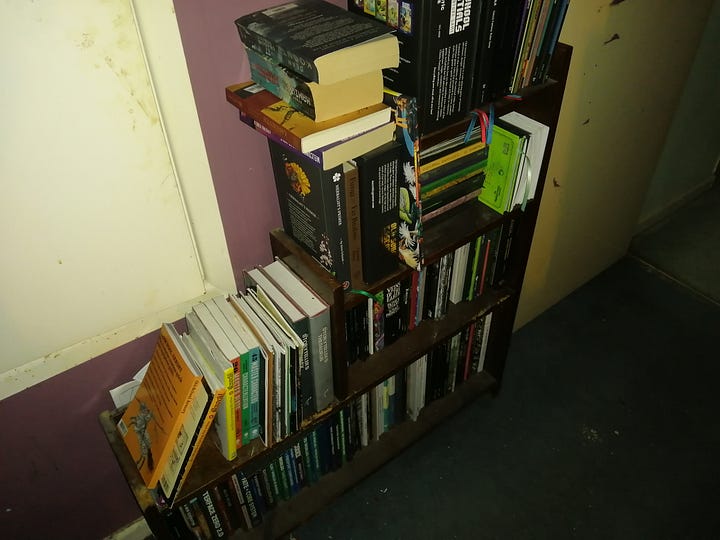 The obvious cop-out answer would be for me to say D&D, since OSR retroclones and variants form a large part of the games I play now, but I talked about D&D in a previous post and don't want to just repeat myself. I could say various World of Darkness games since I spent a good part of my misspent youth dwelling in the dank universe of those games, or perhaps Warhammer Fantasy Roleplay or Advanced Fighting Fantasy due them being some of the first actual roleplay games that I played, however I've mentioned all of these previously.
So, in my tradition of treating the RPGaDay2023 questions as being more like guidelines than hard and fast rules, I'm going to focus on the single word FAVOURITE.
One of my favourite book-series/campaigns and one of the first products that really made me sit up and take notice of the OSR was the Midderlands book by Glynn Seal, Edwin Nagy & Mark Nolan, published by Monkeyblood Design.
The book describes itself as an OSR Mini-Setting & Bestiary, although—in my mind there's nothing mini about it—and later a couple of books (Midderlands Expanded and City of Great Lunden) would expand the world of setting and also the main Capital City of the setting, along with other adventure books (one of which—called Behind the Walls—I was fortunate enough to write). However I still remember getting that first book when I backed it on it's original Kickstarter back in the mists of time (I think it was 2018 or therabouts) and was blown away by it, I'd backed initally because it looked intriguing and was based in a fantasy-ied up version of the Midlands in the UK, which is where I live and a few of the references/samples on the Kickstarter had a sort of self-deferential humour and tongue-in-cheek nature that I love, in the vein of the warped Blackadder-esque version of UK.
I hadn't really heard of Glynn prior to the release of these books although I've several enjoyable conversations with him since and certainly during the production of Behind the Walls he was a great inspiration and encouragement, a pleasure to work with; obviously since then Glynn has become known—not just for top-quality RPG supplement writing—but also for his Ennie award winning cartography and unique style of art which is on full display in the Midderlands books.
I also love the fact that—at the back of the book—there was an advertisement or a flyer for the nascent Dolmenwood setting by Gavin Norman, which at the time was being published as a series of—no longer available—zines called Wormskin and this also lead to me delving into the weird fairytale forest realm and my interest in it developing an parallel with my love of the green-tinged madness that was the Midderlands campaign setting. There was even a placeholder area designated for Dolmenwood when the Midderlands Expanded book came out and delivered a map of the Havenlands (the settings version of England).
With the forest being places in Emeraude, the settings equivalent of Ireland, although I seem to recall Glynn, or perhaps Gavin, saying that it had only been put there due to there being a lack of space elsewhere on the map, although I think it's a great nod to another OSR setting that was in development at the time.
Coincidentally the revised version of Dolmenwood is currently on Kickstarter and at the time this is posted on 31st August 2023 there should still be time to back this (check it out at this link).
In-fact I did a review of the first Midderlands book on Youtube about 5 years ago where I delve into it in more detail:
I've run a few different games set in the Midderlands, in one even mashing in bits of Dolmenwood even eventually becoming a moderator on the Necrotic Gnome Discord, and I've had numerous conversations with people about the best way to combine the two settings. In-fact if you check out my post Midderwood on the Barrowlands, you'll see that—not only have I not stopped thinking about combining these settings—but I'm now trying to fold other stuff into the mix.
Something about the Midderlands just spoke to me, it might be the British sense of humour that runs through it like a great, emerald vein or it could be the intriguing mentions of Gloomium (a warpstone-like mineral that paradoxically can warp and kill and yet lies at the heart of the world), perhaps it's the profusion of weird and interesting goblins and creatures that infest the world, or maybe it's just the profusion of OSR-fungal spores have got to me, but—whenever I start a new OSR campaign and am thinking about what to run—the Midderlands is one of the first things that comes to mind. I'm subscribed to a number of Youtube channels where people are very passionate about the setting that really speaks to them (one of my favourites being Greyhawk Grognard who really delves into the Greyhawk setting), but I was never really that into Greyhawk, or the Realms, not even Eberron (although that may be one of my favourites of the "official" D&D settings), the Midderlands is my forever campaign world for D&D or whatever retroclone I happen to be running, and I've run it with LOTFP, OSE and other such games although bizarrely never Swords & Wizardry which is I believe the system it was originally designed for.
That said I did back the recent re-release of Swords & Wizardry complete on Kickstarter so I could be tempted once my hard-back arrives:
I look forward to running many more adventures in the Midderlands in the future, possibly even writing for the line again (when I next have a suitable idea) and also continuing to work on my combi-setting of Midderlands, Dolmenwood and other stuff.
Thanks to Glynn and everyone involved in the Midderlands, whilst I'm sure I would have delved into OSR stuff eventually if I hadn't stumbled across the Midderlands, I'm not sure I would have done so with such love or gusto for that style of play.
Thanks for reading Last Roll of the Week! Subscribe for free to receive new posts and support my work.